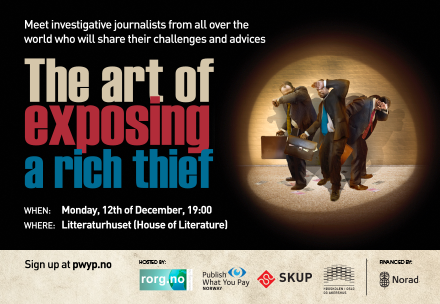 Which methods do the journalists use? How have they managed to withstand powerful multinational corporations and governments opposing them? Does Panama Papers signify a new era in the field of investigative journalism?​
You will hear:
What happened when the British journalist, Claire Rewcastle Brown, was given 227 000 e-mails from a former employee at Petro Saudi.
How the Icelandic journalist, John Kristjansson, played a part in the Icelandic Prime Ministers downfall.
How the Nigerian journalist Joshua Olufemi, was able to detect trillion of dollars of deficit in the National treasury.
Additionally, you will be able to meet other investigative journalists with similar stories from Russia, Armenia, Switzerland, Guatemala, Germany, Ethiopia, Mali, Colombia and Ivory Coast. We encourage discussions and questions from the audience. Welcome!
See program 12th December  

"The art of exposing a rich thief"
Host of the day - Prof. of Journalism Kristin Skare Orgeret, Oslo and Akershus University College of Applied Sciences (HiOA)

19:00 – 19:15:  Welcome: by Jan Gunnar Furuly, Chairman of SKUP Award (SKUP).

19:15 – 20:20: Journalistic investigations from three continents.
-The stories.
-Challenges and solutions along the way.
-Consequences of exposure.

Journalists participating:

- Clare Rewcastle Brown, investigative reporter and founder of Sarawak Report and Radio Free Sarawak, Malaysia
- Craig McKune, investigative journalist for amaBhungane, Centre for Investigative Journlism, South Africa
- Rodrigo Veliz, investigative journalist, Guatemala

20:20 - 20:40: Break: Norwegian Christmas drink and gingerbread

20: 40- 21:10: Panama Papers: Cooperation across borders, professions and newsrooms.

Journalists participating:

- Johannes Kr. Kristjansson, investigative journalist for Reykjavik Media
- Kristine Agalaryan, investigative journalist for ww.hetq.am, Armenia
- Joshua Olufemi, investigative journalist at Premium Times Centre for Investigative Journalism, Nigeria

21:10- 21:30: Debate: When the state does not want to, or is incapable of investigating use of tax havens, and journalists are left to do the job:
- How can the conditions for investigative journalism be improved?
- Does Panama Papers signify a new era in the field of investigative journalism?
Thank you for your interest in the conference "Making Transparency Possible". Unfortunately the meeting is now fully booked. 

If you would like to be informed about when presentations and information from the conference are published online on our webpages, please sign on to our newsletter.
WHEN: Monday 12th December, 2016, 19:00 - 22:00.
WHERE: "Wergelandssalen",  Litteraturhuset/House of Literature, Wergelandsveien 29, Oslo.
FREE ENTRY
Hosted by: SKUP, RORG, HiOA, PWYP Norway
Financed by: Norad
Media contact: 
Tine Eide
Email: tine.eide@pwyp.no
Cell: ​+47 480 87 820