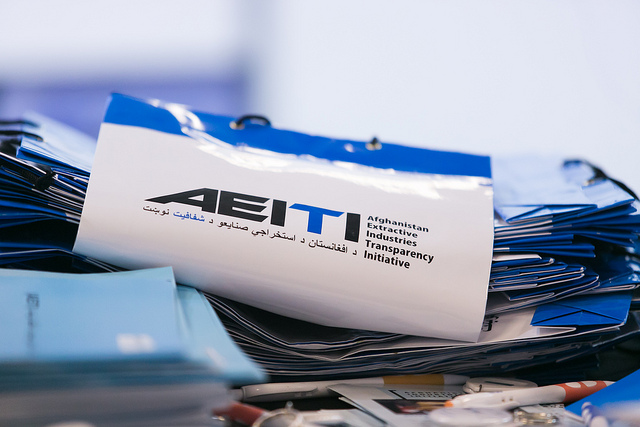 This week more than 1.000 delegates gather in Sydney for the global EITI conference, _Beyond Transparency_. Revised EITI requirements will be adopted, requiring the 39 countries that implement the EITI to report on a variety of new elements.
Pay more or expect less 22. may, just as Sydney gets ready to play host to a global conference on transparency and accountability, Australians woke up to "a warning in the Sydney Morning Herald", that they should pay more tax or expect to get poorer services from the government. The warning came from the head of Treasury, Martin Parkinson, who according to the Herald, told a post-budget function in Sydney that the share of the economy devoted to tax had suffered its most dramatic slide since the 1950s.
Read: Cameron and Hollande want to join EITI":http://www.pwyp.no/nb/uk-and-france-will-join-extractive-industries-transparency-initiative The budget challenges coincide with Australia hosting the Extractive Industries Transparency Initiative Global Conference, Beyond Transparency, which gathers over a thousand government officials, extractive companies and civil society organisations. The international community requires good governance from their leaders and demands transparency to prove it, and the expectations in terms of what the transparency should encompass, are evolving.
EITI raises the bar [img_assist|nid=16125|title=|desc=Jonas Moberg, head of the international EITI secretariat, presents the new requirements|link=none|align=right|width=300|height=200] In light of the demands for increased transparency, EITI has approved new and revised requirements which raise the bar and keep EITI in line with important international developments in the transparency area. The 39 countries that implement EITI, will now have to provide the following detailed information in their EITI reports: * Information about each oil, gas and mining license
Maintain a public register that lists the company name, location and duration of each license (this information does not exist in major producing countries like Kazakhstan and emerging producing countries like Mozambique).
Explain how licenses were awarded or transferred during the year covered, and details on applicants and criteria used in any license auctions.
Reporting of revenue data per project (this will bringing EITI in line with the Dodd-Frank, which requires project-level reporting by all U.S.-listed oil, gas and mining companies. The European Union has committed to the same).
 The new standard also encourages countries to act in two additional areas: contract transparency and beneficial ownership.
*Read:Erik Solheim: The key word is tax": For the civil society coalition, Publish What You Pay, it is important that EITI countries work for a solid and active interpretation of these requirements. The goal for the countries should be to do as much as possible under the new EITI standard. h3. A platform to discuss Ali Idrissa, coordinator of Publish What You Pay in Niger explained how the civil society in Niger only started to talk about this in public when the EITI started. "The EITI was the first time we were able to express our views. In some countries there were violent reactions. But, today we see some of our views expressed in policy. EITI requirements make countries publish information we did not have before. EITI makes it possible to use those figures and know what happens with the non-renewable and finite resources. We have to develop our country rather than leave the country sick after the natural resources are gone", Idrissa expressed.
Companies call for pragmatism Stuart Brooks, International Relations-manager in Chevron, and EITI board member, mentioned that there are now 80 companies supporting the EITI. Having been involved with the EITI since the very beginning, he recalled the mutuaI suspicion among the stakeholders in the early days. According to Brooks, a critical factor in gaining trust between the stakeholders has been that decisions have always been made through consensus. Brooks continued by expressing that he wanted the EITI to be in line with other transparency mechanisms. He advanced a pracmatic view, suggesting that requirements should be tested before imposed on implementing countries.
In terms of beneficial ownership, Brooks noted that it is an important aim for transparency, but claimed that it was difficult from a company point of view, as it requires a lot of due diligence work. In terms of contract transparency, Brooks explained that the EITI board had been split in its views on whether this should be included in EITI standards, and argued in favour of flexibility. At the same time, activists "formed a protest" in the hall outside the conference auditorium, telling the extractive companies to "drop the law suit which they have launched against mandatory US disclosure rules": http://www.publishwhatyoupay.org/resources/citizens%E2%80%99-groups-call-oil-companies-drop-anti-transparency-lawsuit.
What is the impact of the EITI? In spite of the millions of dollars that have now been subject to EITI consolidation processes in a range of countries, people still ask what the impact of the EITI really is. During a conference session on the issue, Professor Paul Collier from Oxford University claimed that if governments are getting more revenues after implementing the EITI, it should show up on social indicators.
"The issue is essential: Does transparency lead to accountability?", he asked. "Transparency should of course lead to accountability. Transparency should have direct effect peoples lives. Today there is a huge difference in being a young person in Botswana or Sierra Leone. But, accountability is not an automatic outcome. For that you also need some good economic indicators. But that is a second stage."
Transparency is not the only issue, but it is the place to start", he continued. "If you don't have transparency of revenues, the answer is almost certain a sustainable development would not be produced. Transparency would therefore be the wrong place to stop. Without transparency we will not achieve anything. Transparency makes it possible to achieve the next logical step.", Collier said, specifically mentioning Public Expenditure Tracking Survey (PETS) as one of those next logical steps.